Points of Pride
St. John's University: a Catholic, Vincentian, Metropolitan and Global University on a Mission to Ensure Student Success
#1 Catholic Institution in the Nation on the List of "Colleges with the Highest Student-Mobility Rates"
St. John's was number one among four-year Catholic colleges and universities on The Chronicle of Higher Education's recent ranking of student-mobility rates—a measure of how effectively institutions of higher education enroll students from low-income backgrounds and graduate them into well-paying jobs. St. John's was also ranked the number two private nonprofit university in the same report.  
---
The Peter J. Tobin College of Business: among the Best in Business Education 
The Peter J. Tobin College of Business is an established leader in business education and has been recognized at both the undergraduate and graduate level for excellence.
U.S. News & World Report
The Peter J. Tobin College of Business climbed an impressive 81 spots in one year in U.S. News & World Report's 2019 list of the "Best Part-time M.B.A. Programs" in the United States, the largest year-to-year rise in the rankings of part-time M.B.A. programs.
The College tied with nine other institutions at number 101 on the list, up from a ranking of 182 in the 2018 list in the same category.
U.S. News employed a methodology that examines a broad range of factors, such as peer assessment; average GMAT and GRE scores of students; average student grade point average; and the number of years of work experience by students enrolled in the program.
Poets&Quants
The Tobin College is also featured by Poets&Quants in their ranking of "Best Undergraduate Business Programs of 2018." The methodology used by Poets&Quants places equal weight on admission standards, the full academic experience as judged by recent alumni, and employment outcomes.
According to Poets&Quants, schools on the list represent the represent the very best accredited undergraduate business schools in the United States.
---
School of Law: Largest Increase in Bar Passage Rate
New York Law Journal reports that St. John's University School of Law continues to rank in the top tier of New York law schools for bar exam success, with a July 2018 pass rate of 87 percent. In addition, the School outpaced the statewide bar passage rate of 83 percent.
St. John's is one of only three schools in New York City to achieve over 90 percent overall employment and more than 80 percent FT/LT/Bar/JD employment for each of the past three years, according to the American Bar Association (ABA) Employment Summary.
The School of Law is also ranked 28th in the nation for placing graduates in full-time, long-term legal positions, according to the 2016 ABA Employment Summary.
Each year, more than 20 Law School graduates begin their careers in District Attorneys' offices throughout New York State.
The School of Law was ranked #72 by U.S. News & World Report in their list of "2018 Best Law Schools." Additionally, 92 percent of 2016 School of Law graduates were employed within 10 months of graduation.
Further, St. John's School of Law is ranked 40th nationwide for placing graduates in the 100 biggest law firms, making St. John's a 2018 National Law Journal "Go-To Law School."
---
College of Pharmacy and Health Sciences Number One on List of "Top Producers of Minority Degrees"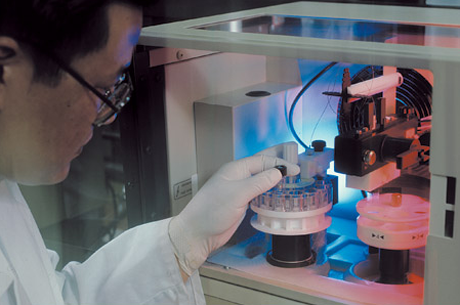 The College of Pharmacy and Health Sciences has claimed the top spot for two of its undergraduate programs—Radiologic Sciences and Physician Assistant—in a new ranking of institutions by Diverse: Issues in Higher Education. Their report, "Top 100 Producers of Minority Degrees," rated these two programs number one in the "Allied Health Diagnostic, Intervention, and Treatment Professions" category for graduating the most Asian-American students with bachelor's degrees.
---
St. John's Online Programs among the Best
St. John's University has been recognized by the editors of U.S. News & World Report for excellence in online learning. The Peter J. Tobin College of Business was ranked 45th by U.S. News on its 2019 list of the "Best Online Business Programs (non-MBA)." 
---
A Leader in Undergraduate Study Abroad Participation in Nationwide Study
With more than 42 percent of St. John's undergraduates participating in at least one study abroad opportunity, the University is ranked 30th among doctorate-granting American universities in the Institute of International Education's 2018 Open Doors® Report on International Educational Exchange.
---
A Military Friendly School
St. John's University has been honored as a Military Friendly® School for 2019–20 by VIQTORY, a Disabled Veteran Business Enterprise® that connects the military community to civilian employment, educational, and entrepreneurial opportunities. 
---
A Top School for Veterans 
St. John's is a "Top School" in the Military Advanced Education & Transition (MAE&T)'s 2018 Guide to Colleges & Universities research study. The MAE&T guide evaluates institutions on their military culture; financial aid; flexibility; and general, on-campus, and online support services.
---
School of Risk Management, Insurance and Actuarial Science (SRM) recognized for excellence
St. John's University is proud to be one of a very select group of US programs to earn the following designations:
Center of Actuarial Excellence
SRM is one of only 16 programs in the United States to be named a Center of Actuarial Excellence (CAE) by the Society of Actuaries (SOA), and the sole CAE with the benefit of our New York metropolitan area location. The CAE designation acknowledges outstanding programs worldwide that meet rigorous criteria and specific requirements. These criteria involve the degree, curriculum, graduate count, faculty composition, graduate quality, appropriate integration, and connection to industry and research/scholarships. Schools with this designation are eligible for CAE-specific education and research grants from the SOA.
Casualty Actuarial Society (CAS) 2017 University Award
The CAS University Award program annually recognizes schools doing exemplary work in preparing students for a career in the property and casualty insurance industry. SRM was named as one of only three universities honored in the past year.
Global Center for Insurance Excellence
Introduced in June 2017 by the International Insurance Society, the Global Center of Insurance Excellence designation recognizes outstanding risk management and insurance programs that play an integral role in promoting insurance knowledge and research. Bestowed on just 12 colleges and universities in the United States, 20 worldwide, this award's recipient institutions must meet stringent criteria focused on course offerings, graduate and industry employment rates, as well as professional involvement.
---
194 student-athletes named to the BIG EAST All-Academic Team
St. John's student-athletes excel both on the field of play and in the classroom. In fact, nearly 200 were honored with inclusion on the BIG EAST Conference's All-Academic Team. To be eligible, student-athletes must have competed in a BIG EAST-sponsored sport, while maintaining a grade point average of at least 3.0. In addition, three St. John's teams have been awarded the BIG EAST Team Academic Excellence Award, given to the squads with the highest grade-point average (GPA) in the conference for their respective sports.
---
Sources: 1U.S. News & World Report; 2Society of Actuaries and International Insurance Society, Inc.